An insightful marketing plan helps a company define its target audience and identify the proper channels to engage with them. Enterprises need an extensive marketing plan to execute their promotional campaigns. However, creating an effective marketing plan is easier said than done.
The marketing plan for a B2B company includes business goals, competitive landscape, market, and other crucial elements. B2C brands apply SWOT analysis and an analysis of customer behavior while designing their marketing strategy. Using these strategies without a plan will mess things up. Therefore, let's explore the essential steps to creating a robust marketing plan!
Step 1: Summarize Business Details
Before we devise the strategies, we must take note of some core business details. We must include essential information without diving deep into every detail. It will help make the marketing plan easy to understand for every stakeholder. The business details discussed above include the brand's name, address, branches, mission, and information on the key marketing leaders.
Step 2: Define Business Goals
Dedicating a section of the marketing plan to business goals is essential. What demands more attention in this context are the immediate goals.
Let's assume that the company wants to generate 100 qualified leads monthly; this qualifies as a primary goal and must be a part of the marketing plan. This section must also highlight how the goals will be met and the metrics used to evaluate the success of different business initiatives.
There are some apparent goals that are critical to any company. For instance, it is obvious to assume that a business would want to expand its customer reach worldwide. These goals are so fundamental that the marketing plan should aim to meet them regardless of whether they are noted or not.
Step 3: Analyze Customer Behavior
Understanding customer behavior is the key for every business. Thankfully, we have access to web resources, social media, and other channels that put us in direct contact with our customer base.
Digital evolution has empowered us to implement business strategies by providing unlimited access to customer data.
Similarly, digital channels have enabled customers to follow every brand move and assess its ethos and vision. To positively impact the customer psyche, we must ensure our marketing strategy focuses on building a solid brand image online.
To fine-tune our marketing strategies for a strong presence online, we must analyze the below audience details:
➡️   Age
➡️   Gender
➡️   Occupation
➡️   Interests
➡️   Pain points
➡️   Trigger points
Examining these details will allow us to create a concrete marketing plan that generates excellent results.
The question is, how does a marketing team go about gathering such information? A simple answer would be, finding market intelligence tools that provide customer data in real-time.
Evaluation of customer behavior helps create content that targets their pain points. Trigger points refer to events or triggers that make customers buy the products/services. Analysis of trigger points will allow us to personalize content for customers, leading to sales growth and better conversion rates.
Step 4: Close Watch on Competitors
Understanding our competition is one of the most crucial points that will set us apart.
Competitor analysis will invariably give us a chance to assess the marketing plans of better-performing brands. Through it, we can identify the gaps that can be capitalized on to strengthen our market position.
While analyzing the competitors, we should focus on the following:
➡️   Market share of the competitors
➡️   Price plans
➡️   Offerings
➡️   Positioning in the market
Step 5: Determining SWOT
SWOT, short for strengths, weaknesses, opportunities, and threats, is a powerful marketing tool that has been around for a long time.
Strengths indicate a company's strong points, indicating things that work for them.
Weaknesses include the areas where the company needs to improve. Besides the design, development, or features of a product/service, it might also include marketing strategies.
Opportunities refer to the things where a company can excel or thrive.
Threats refer to the factors that affect the image, sales, or any other aspect of our business negatively.
Analyzing all these things is important because they ultimately affect the marketing strategies and ideas.
We shouldn't determine the strengths, weaknesses, and other factors based on mere hearsay. Hence, a SWOT analysis must be supported by extensive market research.
Step 6: Pen Down the Marketing Strategies
Here is where the crux of a marketing plan lies. We must put all the above details into a workable plan. It will determine our brand approach and direct customer decisions. While noting down a marketing strategy, we must include the following points:
Product Details
This point pertains to products a company wishes to launch to attract the target audience. How different is this product, and how will it resolve the customer's issues? – We must ask these questions in our marketing strategy.
Price
How do we determine the pricing of specific products? Are there any seasonal discounts or offers that can uplift online or offline sales? – Questions like these go a long way toward getting more customers to invest in a brand.
Marketing Campaigns
These are marketing ideas, promotions, and campaigns the company should employ to attain its business goals.
Team Member
Accountability, in many ways, helps us improve our marketing strategy. Hence, the role of each marketing team member and their expectations from them should be specified clearly.
Process
Finally, the most crucial leg of the journey is defining or outlining the steps to make the strategy work. Essentially, the process means how we plan to implement the marketing strategies.
Step 7: Decide on a Budget
The companies allocate a specific budget to the marketing team every year. This budget must be mentioned clearly in the marketing plan. Several marketing expenses are to be covered in the given budget, including:
➡️   Paid advertisements and promotions
➡️   Digital marketing expenses
➡️   Outsourcing expenses
Step 8: Determine the Marketing Channels
We must find marketing channels that help us attain our business goals on a limited budget; influencer marketing is a case in point. It can help businesses organically promote their products/services correctly without making them sound in-your-face.
Influencer marketing is more pocket-friendly than TV advertising, allowing us to target niche audiences. There are different ways to leverage brand offerings like blogs, videos, and other social media resources.
As digital consumption grows, influencers are the stars of this changing world. Hence, customers tend to believe what their favorite influencers say. If we get an influencer to promote a product, it automatically drives conversions without our doing much.
Hiring influencers for marketing campaigns isn't always very cheap, especially if the influencer has millions of followers. In such cases, it would help to target micro-influencers.
Social media marketing, marketing paid promotions, SEO tactics, guest posting, and affiliate marketing are the other marketing channels that can help us achieve our business goals.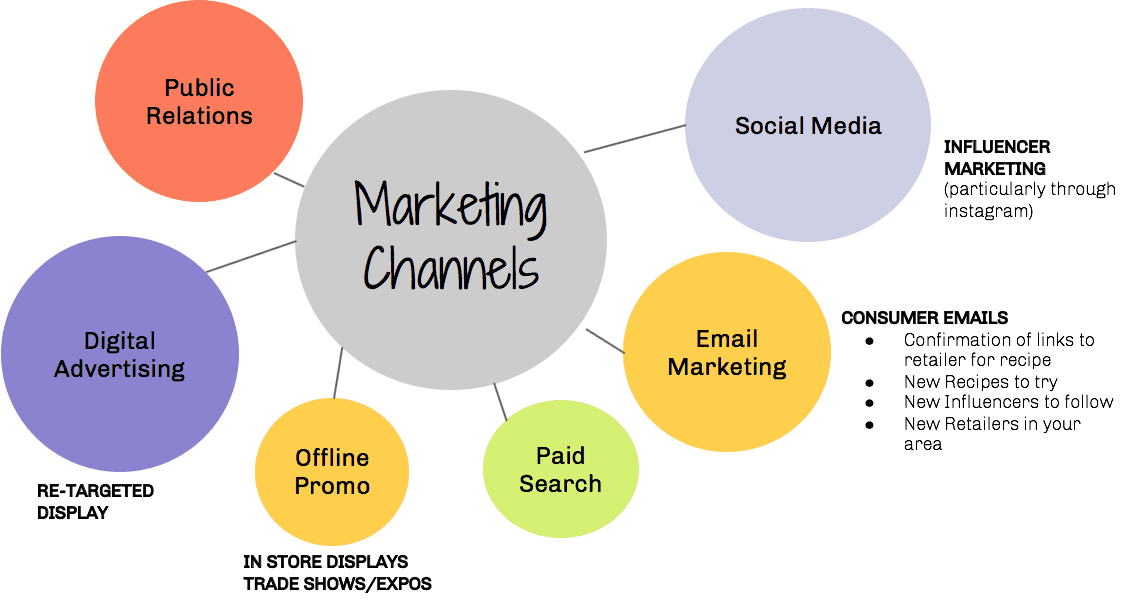 Step 9: Figure Out the Financial Projections
After finalizing the marketing channels, we must determine how much to invest in each channel. The expected returns and conversion ratios must be calculated in advance.
These predictions might not be 100% correct. However, they will give us a rough direction, helping us plan the marketing plan for a calendar year.
Step 10: Set a Timeline
Lastly, we must create a timeline for the marketing campaigns. Doing this will give us the opportunity to plan the next steps. It will instill a sense of urgency and purpose in the team. Each team member will feel motivated to implement strategies within a specified time.
How does having a timeline help future planning? We can decide our approach for different projects and tasks by keeping a close eye on the time.
Parting Words
Creating a marketing plan is not simple by any means. However, as expert marketers, we should analyze the goals and research marketing ideas to help a brand succeed within a given budget.
Irrespective of our marketing plan, the critical marketing decisions should be backed by extensive research. Social analytic tools help us to understand the market, competitors, customers, and emotions.
We can also leverage advanced marketing tools to identify a crisis affecting a brand's reputation and position in the market. Finally, each marketer deals with things differently and may have a unique approach to solving a specific problem.