This is the leading dairy product FMCG brand, a wholly-owned subsidiary of the national dairy development board.
The company has 21,000 employees working in 31 factories, and more than 1150 suppliers and the product is available to more than
8 million in pan India.
They have created market leadership over the years in the branded milk and other dairy products sector, being the leading Indian FMCG brand. It is one of the biggest organizations to own such a vast distribution in India, ranging from edible oils to processed foods. It also caters to the daily requirements of households.
It's a milk manufacturing giant that provides employment to the farmers by sourcing fruits and vegetables from farmers' associations and oilseed grower cooperatives. Out of the 3 A's of marketing—Availability, Acceptability, and Affordability—they have already endowed the first 2.
The availability is not limited due to their strong distribution strategy, and the product is acceptable to millions of consumers. They now have the 3rd essential marketing factor—affordability—and are working on the strategy, structure, and performance.
Bargaining power of the customer
There are high numbers of customers who use similar products; the only thing that differentiates one from the other is loyalty. Brand loyalty by a customer is a reward for a brand, but a brand should never fail itself in the consumers' minds.
As they run in a competitive environment, they need to ensure they provide the best service to the consumer no matter which part of the country they belong to. They have become an integral part of our daily lives.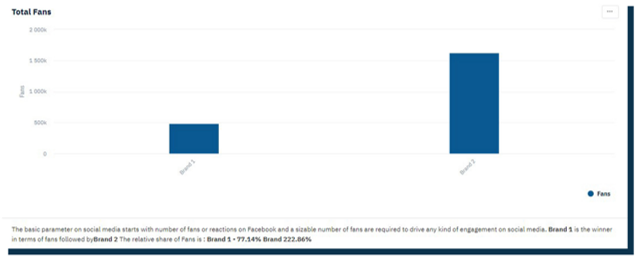 Objective
It is an essential item that consumers continue purchasing frequently in their daily lives as FMCG consumers have a short time, which means they are likely to switch easily from one product to another in a jiffy. As a brand, it is very crucial to know what their buying habits are, and for the consumer to keep choosing a brand, they have to maintain a healthy relationship and how they feel about the overall experience.
Their main objective is "carrying out activities for the economic growth and development of the agriculturists by efficiently marketing the milk and dairy products, agricultural produce in raw and/or processed form and other allied produce". This is done through:
✅   Common branding
✅   Centralized marketing
✅   Centralized quality control
✅   Centralized purchases and
✅   Pooling of milk efficiently
As consumers spend more time on social media because it is a tool through which a brand knows what people are talking about, this type of information would help make strategic and informed decisions.
Improving the quality of customer interaction and creating trustworthiness among consumers is their top priority and objective.
Challenges
In the FMCG sector, it is highly likely to get negative reviews from customers. In this age of social media, the consumer experience goes beyond simply purchasing the product. So the brand has to respond to its customers promptly without further delays. 
Creating an impression that fulfills the customer experience by building a positive position and also they feel heard when a brand responds quickly. Keeping a track of all the mentions which were on social media and extracting data became a bit of a challenge overall.
Opportunities
As the population is increasing, the FMCG sector will also grow rapidly due to consumer growth across sectors. The company can very well utilize the situation as more of the youth are turning to the digital platform. This can help improve the brand image and paint a positive picture.
One of the biggest trends that have shaped the industry is the steady rise of the digital consumer. Right from the millennial generation, they are all choosing to buy online, and this has become a lifestyle that transcends generations. As the internet plays a key role in the rise of the economy, this has become more convenient and cost-effective.
Why Konnect Insights?
It helped them to get comprehensive and real-time data, which is the best tool for an FMCG company because the volume of data is hard to manage, as Konnect Insights coverage provides all the facets of the solution.
A consumer who turned to digital platforms to get his query addressed in return does not get any reply, which can lead to an escalation of bad customer experience. Therefore, a company that is keen on social media monitoring and responding to customer complaints has a high potential for customer retention. To handle such a volume of data, Konnect Insights skims and highlights customer complaints and assists in all aspects of the process.
It also offers a smart and comprehensive dashboard and statistical report to sift through the huge blocks of unstructured data and highlight the hidden trends.
Customer relationship management (CRM) using data to engage with customers is one of the crucial aspects that Konnect Insights offers. The usage of this technology can definitely reduce time and build customer interaction.
Conclusion
Using Konnect Insights, where data becomes the DNA of the business, leading FMCG brands are able to take advantage of automation and analytics, and it has impacted and accelerated the business.
Konnect Insights is an omnichannel customer experience management platform. It offers one solution and helps brands become customer-centric. Brands leverage Konnect Insights to create brand awareness and gain customers' trust and loyalty. It also helps brands to create an enhanced social media presence.