It seems like just yesterday that the new year began. But here we are already, looking ahead to the month of March! Time flies by so quickly! Of course, that means it's time to get our content calendar ready for March. Planning your content strategy ahead of time is vital to success, and it's sure to pay off.
March is the perfect month for getting creative with our content. We can use it as an opportunity to explore different angles and topics while also engaging our audience in exciting and informative ways. The best way to create blogs, videos, and other content is to keep an eye on special events and holidays that are happening during the month. This way, we can tie our content to things and stories that are already in the air.
So, which holidays should we keep an eye out for in March? Let's take a look.
| | |
| --- | --- |
| March 1 | Zero Discrimination Day |
| March 3 | World Wildlife Day |
| March 8 | International Women's Day/ No Smoking Day/ Holi |
| March 14 | Pi Day |
| March 20 | International Day of Happiness |
| March 22 | World Water Day |
| March 24 | World Tuberculosis Day |
| March 27 | World Theatre Day |
March 1 – Zero Discrimination Day
Zero Discrimination Day is celebrated every year on March 1. This day is about everyone having equal rights and opportunities, regardless of gender, race, beliefs, financial status, or other factors. It was first celebrated on March 1, 2014, and since then, it has become an annual event to raise awareness of discrimination.
On Zero Discrimination Day, organizations like UNAIDS strive to challenge prejudice and discrimination against those living with HIV/AIDS. Each year's theme focuses on a different kind of discrimination in our world. In 2022, the theme was "Remove laws that harm, create laws that empower."
On this day, we can create content around the theme to raise awareness and challenge discriminatory laws around the world. For instance, Chimp&z, a digital marketing agency, used it as an opportunity to release the campaign "Never Late to Unlearn," which urges people to unlearn discriminatory stereotypes.
https://www.facebook.com/watch/?v=664657421004052
March 3 – World Wildlife Day
It is sad that in just the last 250 years, a total of five hundred and seventy-one species have been confirmed extinct. And that number is still rising. To remind people of the fragility of our wildlife and ecosystems, World Wildlife Day was established on March 3rd to raise awareness of our fragile planet.
World Wildlife Day was first established in 2013 by the United Nations General Assembly and has been celebrated annually. Like Zero Discrimination Day, World Wildlife Day also has a different theme every year. In 2022, the theme was "Recovering Key Species for Ecosystem Restoration." On this day, many associated and non-associated organizations worldwide joined together to create campaigns and contests. You can check out some of them here.
The theme for World Wildlife Day 2023 is "Partnerships for Wildlife Conservation." We can either join in on existing initiatives or create content that focuses on the theme. For instance, we can collaborate with like-minded organizations to create a short film or blog post highlighting the importance of protecting wildlife.
https://www.facebook.com/watch/?v=2964193737193681
https://www.facebook.com/watch/?v=187711999179476
https://www.facebook.com/watch/?v=255886189424584
March 8 – International Women's Day/ No Smoking Day/ Holi
March 8 has two significant occasions; International Women's Day and No Smoking Day.
International Women's Day is observed to recognize the achievements of women, as well as to promote gender equality and equal rights for women around the world. The day is marked by campaigns, activities, events, and rallies that support and empower women. Each year, countless campaigns and initiatives are launched to celebrate International Women's Day, like the HeForShe campaign by UN Women. Similarly, we can create powerful content that celebrates the achievements of women and encourages everyone to join this movement.
On the other hand, No Smoking Day is a health awareness day celebrated in India. The National Health Portal of India has ordained the second Wednesday in March as No-Smoking Day to observe and encourage quitting smoking. We can take this opportunity to craft engaging content about the harms of smoking. We can create informative blog posts, infographics, videos, and other types of content. The possibilities are endless.
Finally, Holi, the festival of colors, offers the perfect opportunity for brands to launch fun and engaging campaigns. We can create content around this festival, like a blog post about the festival's origins or a video showing people celebrating the festival. This can be a meaningful way to connect with people and create lasting relationships. Here are some of the top Holi campaigns by brands to inspire you. We hope that you make something unique and memorable.
March 14 – Pi Day
All the math geeks out there will know what March 14th stands for – Pi Day! This day celebrates the never-ending and irrational number Pi (3.141…….).
We can use this day to explore the many different aspects of pi and its applications through engaging content. For instance, we can organize a competition where our social media followers have to solve math problems related to pi. We can also create blog posts that explain the different properties of Pi or a fun video that shows how pi can be used in everyday life.
Here are some marketing ideas for this day. However, don't make the mistakes these brands did while trying to tie in their campaigns with Pi Day.
March 20 – International Day of Happiness
Happiness – it's something that everyone wants and needs. The pursuit of happiness is a fundamental human right. The United Nations has created an International Day of Happiness to recognize and celebrate this.
We can use this day to promote positivity and happiness through content. For instance, we can create a blog post that shares tips and advice on ways to stay happy or a video that showcases inspiring stories from around the world. We can also use this day to promote self-care practices and encourage people to take time off for themselves. After all, we all deserve to be happy!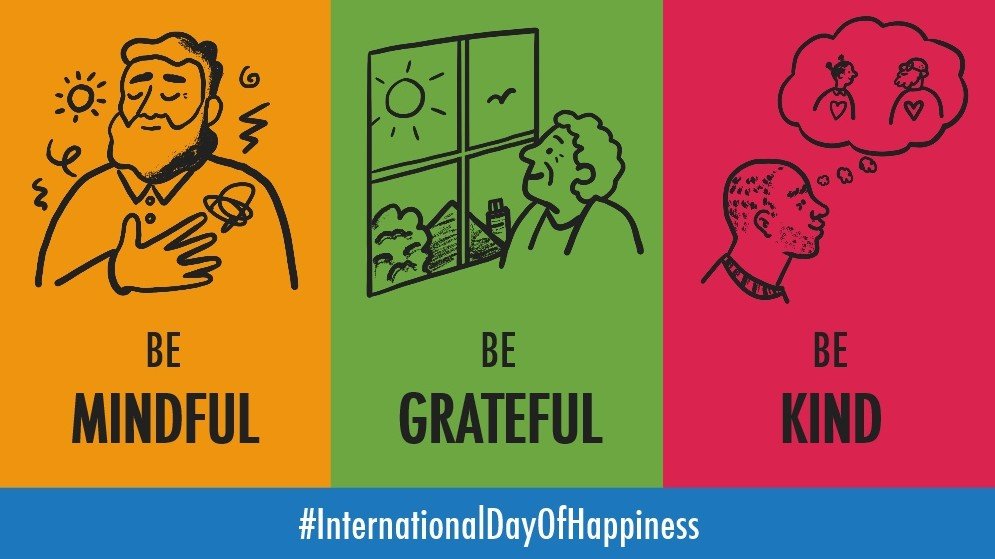 March 22 – World Water Day
Water is something that we take for granted, but it is a precious resource that needs to be preserved. World Water Day is celebrated on March 22 to raise awareness of the importance of clean and safe water.
We can use this day to create content highlighting the significance of water conservation and spreading awareness about it. We can provide hard-hitting blog posts and videos showing the need for water conservation in India and worldwide. We can also share tips on how people can reduce their water consumption and be more mindful of the water they use. We can also create an interactive quiz or poll to engage our audience with this issue.
Here's a video titled 'If you SAVE water, water will SAVE you' that VIBGYOR school created to mark this day. Similarly, Infinique Mall created a social media post that not only focused on the importance of water but also promoted moving to vegan leather. This post raised awareness of animal cruelty.
We hope it inspires you to create something equally powerful and impactful. Brainstorm and come up with unique ideas to mark this day.
Did you know?
Processing leather requires a large amount of water, 90% of which is released back into our waterways as harmful liquid waste.
Veto Elevator Shoes are made of 100% PETA-approved, cruelty-free vegan leather. Then why encourage the slaughter of animals. #WaterDay pic.twitter.com/BfgduKTfht

— Infinique Mall (@Infiniquemall) March 20, 2021
March 24 – World Tuberculosis Day
Tuberculosis is a life-threatening disease that affects millions of people across the globe. Despite its prevalence, this disease gets very little attention. World Tuberculosis Day is celebrated on March 24 to bring light to this issue and raise awareness about it.
This day is a great opportunity for us to create content that sheds light on the realities of this disease and helps spread awareness about it. We can create content that talks about the causes of tuberculosis, its symptoms, and how it can be prevented.
For instance, Johnson & Johnson launched the #BeTheChangeForTB initiative in collaboration with the Central TB Division, the Ministry of Health and Family Welfare in India, and the United States Agency for International Development (USAID). They roped in famous Bollywood actress Vaani Kapoor and rapper Kaam Bhaari to create a rap song to inspire the youth of the country to fight TB.
Let's use our platforms to create similar, meaningful campaigns and help raise awareness about tuberculosis. We don't need a substantial budget either. Content is the key, so let's make it impactful!
March 27 – World Theater Day
Finally, the month draws to a close with World Theatre Day on March 27. This day celebrates the power of theater to inspire and engage audiences around the world.
Content ideas for this day can range from interviews with theater actors to discussions about the importance of theater in society. We can also create content that showcases experimental or innovative forms of theater and how they can be used to create powerful stories.
Wrapping Up
There you have it – a list of days that can be used to create meaningful and engaging content. We hope this calendar will help you come up with content ideas that are fresh and exciting. The key is to think outside the box and come up with ideas that drive conversations and inspire people to take action. Let's start planning some powerful content for March 2023!
Happy content creation!