We've watched generations of the same family remain devoted customers in communities where corner stores called "Kiranas" were a vital part of our lives. Sensing a business opportunity, supermarkets and online grocery firms have sought to replace "Kiranas" with a distinct product. Since then, there has been continuous development and growth of e-grocery businesses in the last few years, prioritizing convenience for consumers in this fast-paced space.
Blinkit (previously known as Grofers) was founded in 2013 as a marketplace for groceries delivered to clients within 90 minutes by local partners. Over the years, servicing millions of consumers across different locations, the brand has been quick to understand the changing needs of its customers and repurposed its infrastructure to pivot to something with a staggering product-market fit: Quick Commerce.
Today, more than 5000+ products ranging across food, personal care, household & other categories are delivered to consumers within minutes across 24 cities, to reach 100 cities simultaneously in the future. The purpose is to give a one-stop-shop experience and to deliver the greatest possible client experience.
"At Blinkit (formerly Grofers), we are continuously obsessed with building products that provide inordinate value to our users' lives." We sincerely believe q-commerce is the future of commerce and it will be as much about delivery as it will be about the art and science of what sells. Hence, the need to understand and read data is of utmost crucial to us. "
Objective
Digital transformation and online media have revolutionized the way brands and customers interact. With an open forum to discuss and opine, channels such as social media, forums, and review sites have come to the forefront and are a driving force for both brands and consumers to build better relationships and deliver on expectations.
Q-commerce or Quick Commerce brands aim for good customer relationships by providing high-quality, reliable services. Why does the instant delivery market offer 10–20 minute delivery services? They focus on changing the customers' purchase behaviors and preferences. Q-commerce is becoming the major e-commerce model catering to the growing needs of customers.
Brands are aware of their digital presence and strive hard to reach their target audience through social media platforms. They run multiple online campaigns through social platforms, giving exciting offers and inducing people to download the app.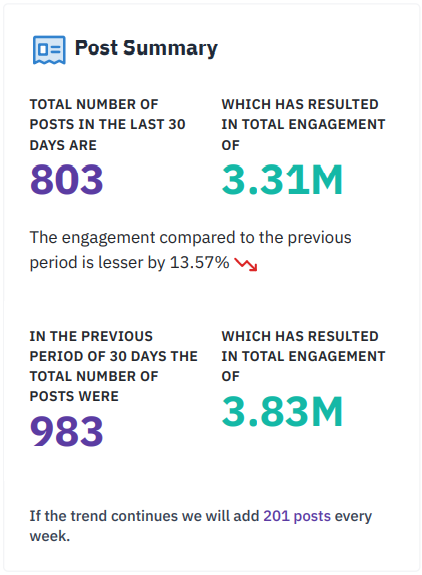 Social media has been an incredibly integral part of Blinkit's journey in trying to understand how consumers are reacting to the quick commerce space. The transition from Grofers to Blinkit has been a crucial step for them, and understanding consumer perception concerning the entire q-commerce space has helped them create products and features that are of utmost importance to their end consumers.
Listening to consumer perception about the space, and understanding the source and root cause of their consumers' sentiments, they are using the insights to deep-dive further into their response and reputation management strategy, as well as benchmarking. All this has helped them improve their social engagement strategy with their audience.
Despite so many challenges, this strategy gives them an edge over the existing companies. They aim to provide a quality user experience through brand awareness and customer engagement.
Challenges
For a brand that caters to a large volume of consumers, as well as ensures top product quality and timely delivery, and is also able to constantly deliver on the expectations of the customer while simultaneously focusing on achieving the brand objectives, it is a feat. The number of variables that need to be accounted for can make it tricky. Reliance on data and analytics plays a big role in coming up with the right decisions and effective strategies.
Instant delivery services allow people to choose from different options and get their products delivered in no time. It's completely convenient and effortless for customers to get their work done. On the flip side, the biggest pros of such services are customer satisfaction and prompt response.

Brands face challenges as their USPs can be their pain points. For example, if a brand commits to offering delivery in 10 minutes, it's great to hear but difficult to execute. If they are not able to fulfill their brand commitments, their social media handles will get a shower of negative comments. Hence, it's very crucial to promptly respond to every customer who is facing issues or dissatisfied with the services.
Brands that invest in strong response management strategies have a powerful brand identity that makes the customer feel valued. Through online response management, brands can manage social media complaints, address queries in a stipulated timeline, and also ensure no customer is unattended.
"We were putting in a lot of effort to manually create reports and presentations to bring this top-level visibility but needed an efficient, smart, and automated system in which we could track these breakpoints and their reason codes." This is where the team at Konnect Insights really helped us overcome this issue." – Team Blinkit
Why Konnect Insights?
After considerable evaluation and due diligence, the team at Blinkit decided to go ahead with Konnect Insights and have been using the platform since. Even during the transition from Grofers to Blinkit, Konnect Insights played a part in the journey.
Talking about how Konnect Insights is an integral part of Blinkit's marketing efforts, the team at Konnect Insights was quick in helping us overcome the issue. "Within the Konnect Insights platform, the capability to create dashboards is practically seamless and extremely user-friendly."
They started using Konnect Insights as a benchmark for comparative business insights and also response management. They can dive deeper into social performance metrics and can leverage that knowledge creatively. They can keep a pulse on how their brand is performing and keep track of their competitors. They use social listening to monitor customer sentiments. It's an invaluable module that Konnect Insights offers for monitoring brands and competitors.
Listening to the target audience, evaluating what's being said about the brand, and acting upon the derived insights can help brands achieve their goals and objectives, which can eventually help them improve their brand strategies.
Konnect Insights gave them dozens of data points, from likes to the number of comments, reply times, retweets, shares, and more,  also paired with listening data. This analysis provided them with an unprecedented level of insight into customers' buying behavior by creating a baseline target for the brand and its audience.
Also provides real-time data with accurate and actionable insights that can inform best practices and create a consistent experience across multiple accounts. Hence, instead of working harder, they work smarter by amplifying the social impact and ensuring the best response time.
Through a quick training session,  the team was able to understand and create dashboards that helped them understand breakpoints, and the possibility to double-click on each of these data points was an added advantage that helped them go deeper to find actionable insights for our brand.
"We could also create custom dashboards at issue level, platform level, and even sentiment level, which really helped us add a lot of value to our day-to-day operations." – Team Blinkit
Business benefits are delivered.
Efficiency and the ability to get actionable insights at the tap of a click are two of the most important business benefits that the team at Blinkit has been able to drive through their association with Konnect Insights.
The level of social intelligence that they now provide to their teams across verticals and the visibility that they can provide through Konnect Insights' customizable dashboards was a potential that was completely untapped for them before.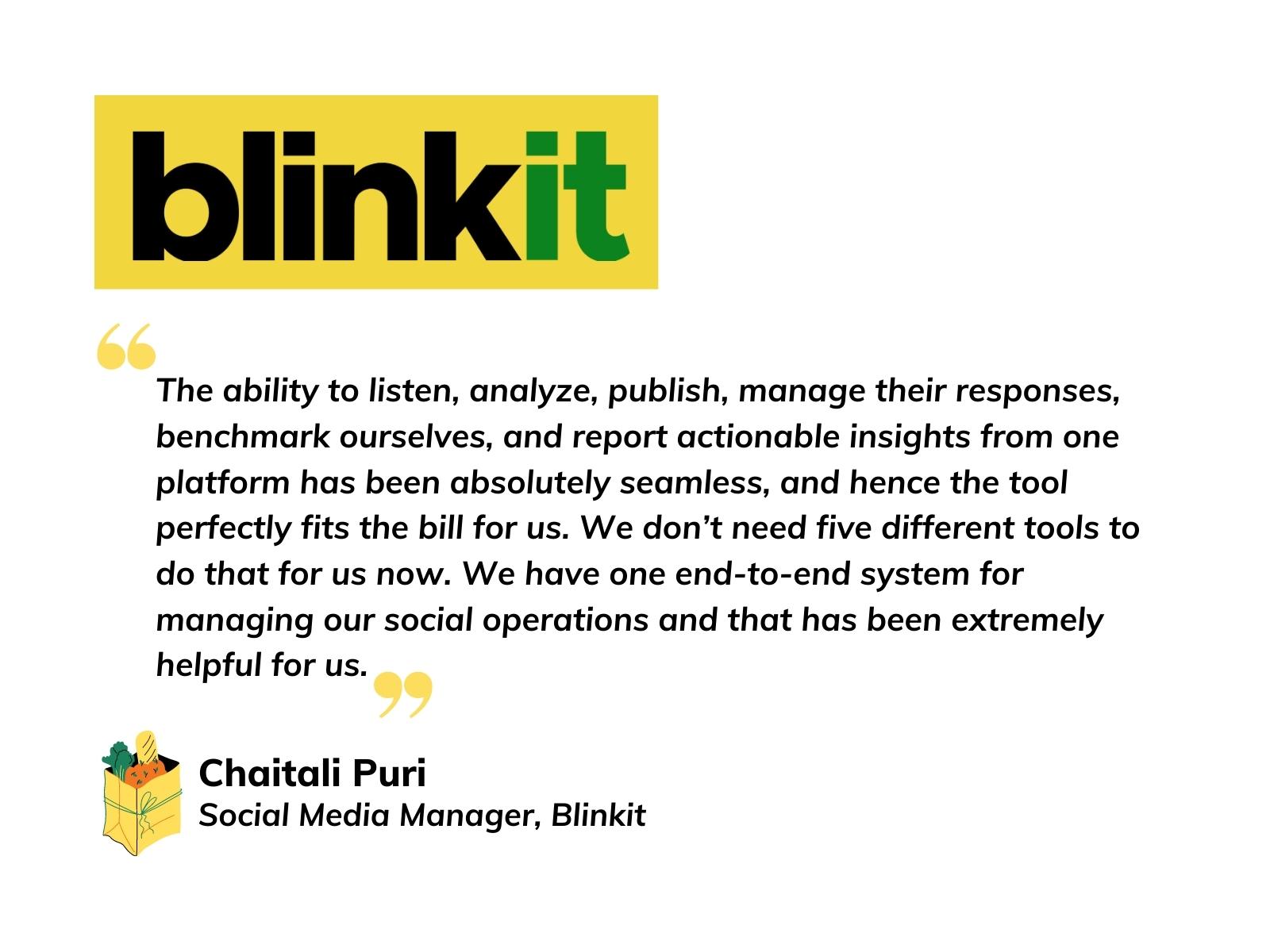 Conclusion
In addition to having Konnect Insights, brands can break down silos while adopting a creative and innovative approach. They are dominating in terms of social engagement, brand posts, estimated post reach, participation, unique visits to pages, and more with real-time updates on digital successes and awareness of the ever-changing digital landscape.