The digital marketing agency is a full-service digital solutions agency from the Wunderman Thompson Network and part of the WPP Group. They are one of the most sorts after digital marketing agencies, and that's clearly testified by the clientele they work with.
Digital marketing agencies have been extremely instrumental in bringing brands and their customers closer through online platforms. And when it comes to talking about the pioneers who have not just orchestrated this but have literally transformed the way brands are positioned and perceived in the market today, and this agency would definitely be high up there.
The digital marketing agency is a full-service digital solutions agency from the Wunderman Thompson Network and part of the WPP Group. They are one of the most sorts after digital marketing agencies, and that's clearly testified by the clientele they work with.
They are an award-winning digital solutions firm with a pan-India presence and clients from all over the world. They have an entrepreneurial DNA at their heart and have been pushing the frontiers of the digital world since its birth.
They were the first in India to establish a Social Media Command Center. Later, they expanded into technology services to provide marketing automation services. Keeping true to its roots, they have added additional services to its repertoire every year, ranging from healthcare marketing to video production to CX design.
"We are present in 24 countries throughout the world, but the company is united by a shared desire to be global and interconnected, to work collaboratively with clients, and to break down the silos that keep brands from delivering meaningful customer experiences."
Customer centricity through people and technology
With a wide presence and a set of esteemed brands in its kitty, the agency prides itself on being well organized, structured, and extremely efficient. The customer is at their core, which drives them to be result-driven, both qualitatively and quantitatively.
With a great workforce that upholds the common objective, the agency heavily relies on technology as an enabler to support its goals. And when it comes to technology, they collaborate with Konnect Insights to power their data-driven approach for better insights.
They have collaborated with a broad collection of clients in India and throughout the world to assist them to achieve their business objectives. After 11 years in the business, they are counted among the leading digital solutions agencies in India, providing services across the creative, content, technology, social listening, and marketing automation domains.
They like to learn from the data how to make things better and take an agile approach to continually improving the experiences they create. Whether it is a social campaign or an enterprise application, they look for new ways to solve problems and make an impact.
"Konnect Insight as a platform is powerful when it comes to getting data as well as insights, and that was one of the major reasons why we decided to partner with them."
Konnect Insights and the agency
They are extensively using Konnect Insights for social listening. Social listening is a very powerful way to understand how customers are perceiving brands and get a better grip on the trends in the market.
Konnect Insights' easy-to-setup-and-use UI/UX makes it simple for the user to get started, and the learning curve is close to nil. Moreover, the rich data and market research insights that the product offers are unmatched in the market.
Topic and keyword setup for performing social listening on the platform can be done in a jiffy and the results start flowing in a few minutes.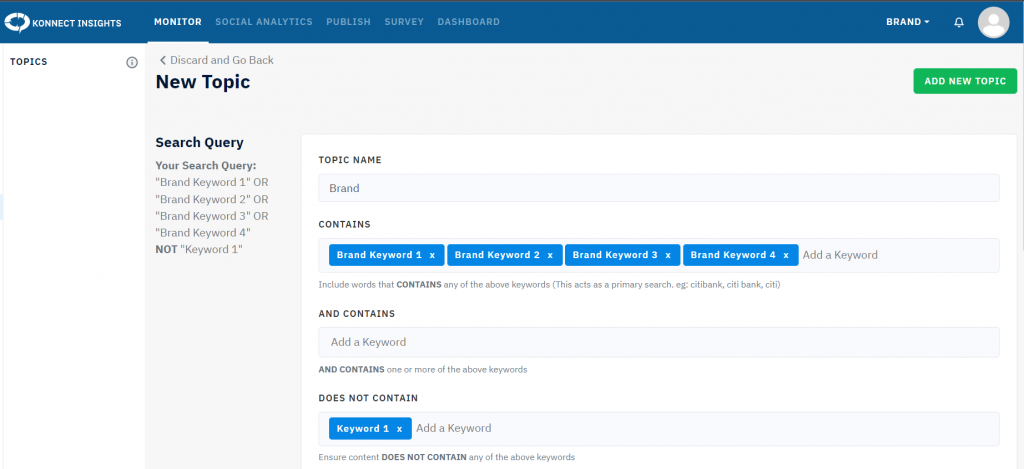 Once the setup is done and the conversations start fetching, you get all conversations related to the topic. And the coverage is phenomenal, as Konnect Insights gets data from all possible channels – web, social media, apps, emails, and so on.
It gets even better. With Konnect Insights, all this conversation data is crunched into visually appealing and insightful charts. There are ready-made reports created for analyzing the
Volume Of Conversations 
Sentiment Reports
Channel-Wise Conversations
Heatmap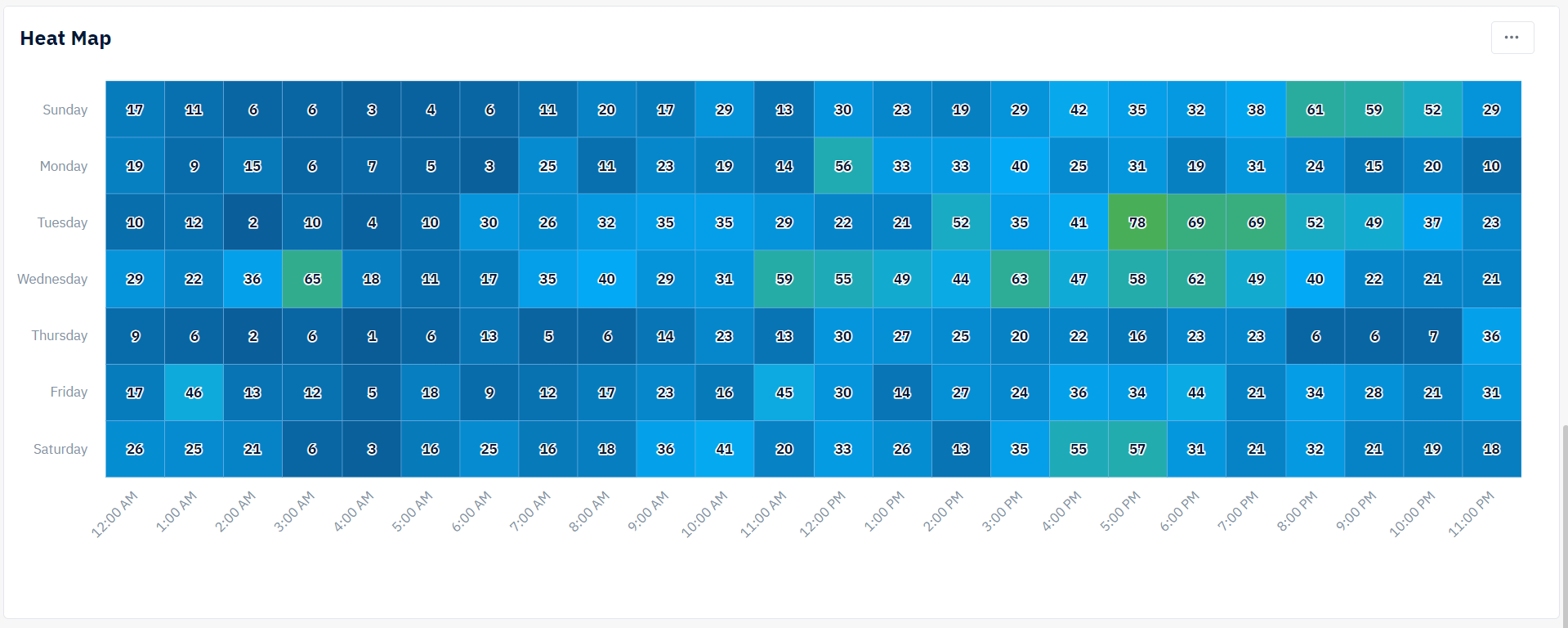 And much more…
This made it very easy for the team to analyze the conversations and get answers for which channels customers converse about the brand, what they are saying, why they are saying it, and what influence the conversations are having.
"It's not only important to get the data, but also be able to make sense of that information without spending too much time on it. You ought to have your insights in a snap. And well, Konnect Insights provides us with exactly that. Right from setting up the topic to getting insights, and even consuming those insights in customizable dashboards, the platform has facilitated everything with a great experience."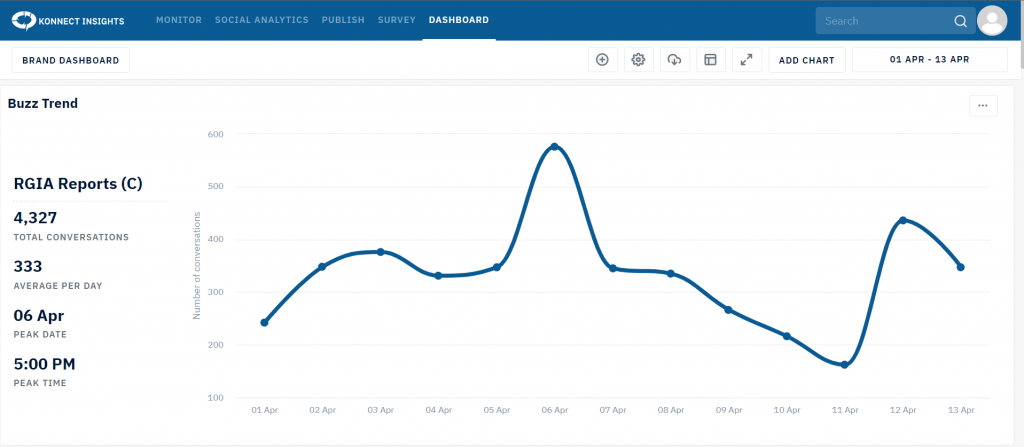 Enabling better brand-customer relationships
The importance of social listening has sky-rocketed, especially in the last few years, as digital transformation has become paramount. And with the impetus provided by the pandemic, it was inevitable for brands to adapt. To channel better brand-customer relationships, social listening has become key, but the most important thing is to do it right.
"Konnect Insights has been a part of the agency's scheme of things for quite some time now, and the relationship continues to grow. Working with the people behind the platform is a great experience. The approachability, support, and proactiveness have been valuable. And that's why Konnect Insights is a partner to us in our current and future endeavors when it comes to empowering brands to understand their customers better."