The dental health-tech chain has a significant online presence and is rapidly growing. It was established in 2019 by IIT/IIM graduates. They are poised to take the dental care industry to the next level thanks to significant engagement.
The year 2022 for the dental health-tech chain is all about advancement, prosperity, and brilliance. They are putting their best foot forward to magnify their team, people, and resources. They provide a lucrative plan for dental care which is high quality and cost-effective dental care products.
The platform offers a range of services through online consultation and personal care. The current technology, as the backbone of the operations, also provides an end to end support during the entire process.
With over 3000+ patients and conducts 5000+ diagnoses every month across Delhi, NCR, Bengaluru, Indore, Hyderabad, Mumbai, and Chennai.
While offering best-in-class services and customer experience, their top priority is the safety and hygiene of their clients. They prioritize safety by doing health checks, using contactless check-in, upgrading PPE, sterilizing on a regular basis, adhering to tight operating rules, and more.
They invest in cutting-edge technology like intra-oral scanners, 30-second x-ray equipment, and 3D printers to enhance your clinic experience. These instruments let us make more precise diagnoses, create finer restorations, provide more stunning aesthetic results, and keep you smiling.
The Brand Objective 
Using the three pillars — Technology, Transparency, and Collaboration, their competent and experienced dentists are dedicated to giving best-in-class dental treatment at reasonable prices.
They built a one-stop solution that caters to all the dental care requirements of our target audience across the world. They want you to say goodbye to the feelings of being judged, discomfort, and irritation that are commonly associated with dental visits. As they all know, dental treatment isn't functioning as well as it should. And they are here to help make things better.
As a result, their team opted to redesign the entire experience. They mix therapy you can trust with technology that calms, a soothing environment, and items that thrill. They want their customers to be proud of their dental health and fitness. Not only twice a year, but every time you eat, tell a joke, laugh, or share a kiss.
They are here to make the dental care of their clients enjoyable! Their dentists like conversing with their customers and sitting down with them—to assist their customers in comprehending their therapy options and details.
Their name symbolizes their idea of integrating the best dentist knowledge with the most significant technological developments to get excellent results. They want their customers to trust them with their oral health since it is a crucial element of their overall health.
The Brand Challenges
As a relatively new entrant into the industry, it was very critical that they leave their mark in spite of the well-established companies. They required an infrastructure to efficiently track their competitors and build their online reputation management strategies in order to have an edge over them.
Following their competitors would provide them with significant information for their future product development and enhancement.
Another disadvantage of being a new entrant into the market was that they faced a lack of product awareness. To avoid this becoming an issue, they required a mechanism to listen to, properly receive, and evaluate their consumers' feedback.
It was critical for their clients to be able to trust the brand as a dental-care brand. They wanted a way to provide a level of customer experience that would inspire trust in their prospective clients.
Contending with market leaders who have already established themselves. There was a widespread lack of knowledge about the brand and the product.
The Brand's Tech Solution
With so many inquiries coming in about the clinic locations, their services, their charges, and many more. They required a streamlined process to fetch conversations and queries and respond to them timely. They also needed an automation process where they could compose or draft templates and send out automated replies to their customers and potential prospects. The firm has been able to do all these things around the clock by implementing the Konnect Insights' Automation module.
The brand wanted to deliver tailored communications to its target audience demographically. In terms of customer experience, the response management function has assisted the company in differentiating itself from its competitors. They are satisfied with the automated solutions provided to their audience.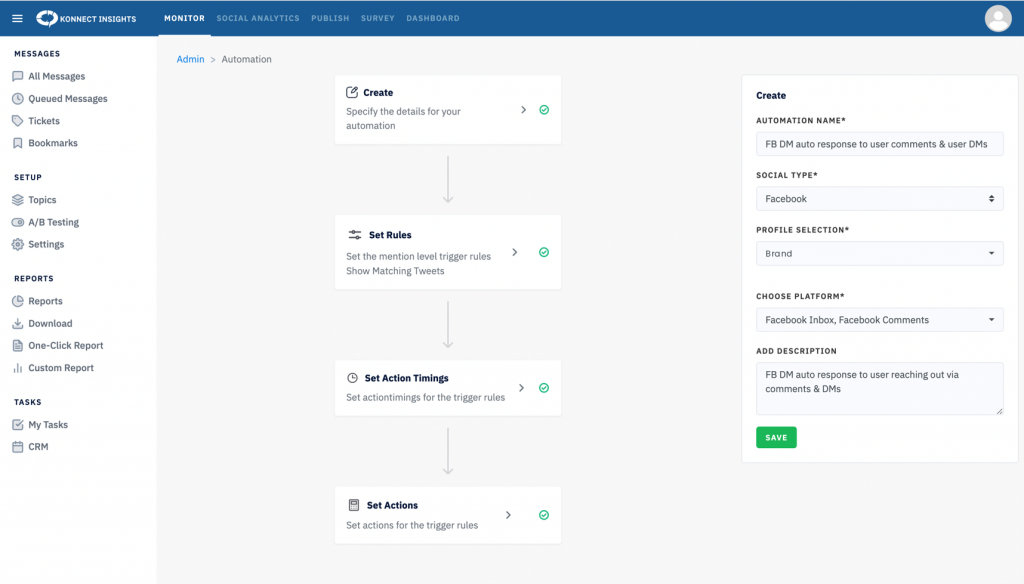 The Brand Gaining Insights 
The dental care brand wanted social media automation as far too many conversations happen around their brand. The conversations can be regarding brand offerings, clinic locations, treatment charges, their services, and more. They also receive queries from their customers and potential customers via direct messages in their brand handle inbox and comments on their brand posts.
Responding to or replying to these many conversations manually is time-consuming. Here, they wanted some kind of solution to this problem. By incorporating Konnect Insights, they have effectively stayed ahead of them. The brand can ensure that it can successfully reply to prospective consumers on a timely basis.
They have direct message automation for public messages received on their brand's social handles. They also have a comment reply automation set specifically for Facebook. They even have pre-set draft templates for their online reputation management (ORM) on Facebook.
Being able to respond to every query has helped the brand achieve significantly more in terms of lead generation and online reputation management. They are assured that Konnect Insights' Automation is the best solution to utilize for responding to queries from any prospective clients that contact them through organic/paid advertising. They have a huge number of conversations coming in, and Konnect Insights is assisting them in staying on top of online reputation management (ORM) and lead generation.
They are also happy with around-the-clock assistance from the customer success team of Konnect Insights. Also, the onboarding process was very smooth and hassle-free as the entire Konnect Insights team helped them through it.